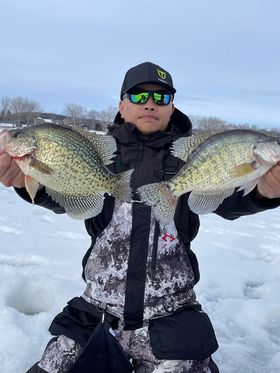 Introducing Michael, the Face of MZ Adventures: Your Gateway to the Thrilling World of Fishing!
With over 5 plus years of fishing experiences under my belt, I've become a seasoned angler, specializing in the art of catching Walleye, Bass, and Crappies. You may know me better as "MZ Adventures," and I'm proud to call Minnesota my home.
My fishing journey began as a curious novice, eager to learn the ropes of this captivating sport. Over time, my passion grew stronger, leading me to focus primarily on these three remarkable fish species. Along the way, I've developed a deep connection with each of them, and I'm excited to share my expertise with you.
Two years ago, I discovered the enchanting world of ice fishing, and my love for it was instantaneous. I'm located right here in Minnesota, where our state's nickname "Land of 10,000 Lakes" rings true, providing endless opportunities for fishing adventures.
In my relentless pursuit of angling excellence, I crossed paths with Tacti-Grip, a company that resonates perfectly with my fishing philosophy. This year, I take on the role of their Pro Staff, which means you can expect the latest and greatest in fishing gear and expertise from me.
Don't miss out on the action! Subscribe to my YouTube channel, "MZ Adventures," for a weekly dose of fishing excitement, informative videos, and thrilling giveaways. I can't wait to bring the thrill of the catch to all of you and make your fishing adventures unforgettable. Let's embark on this exciting journey together!
#MZAdventures #TactiGripProStaff